Today is my son's first day of Kindergarten. He's excited. My wife and I are excited. My 3 ½-year-old daughter is excited as she gets to mess around in the big kid's playground during drop-off.
Kindergarten will also bring about a set of challenges. I have yet to meet a working parent who is thrilled about an 8:30 am to 12:30 pm school schedule. Daycare in the Bay Area is not cheap, ranging from $1,400 to well over $2,000 for a full-time program. The cheapest after-school program I've seen in our area is closer to $800 per month. For this reason, when there is an opportunity to get into the Extended Day Child Care (EDCC) program at my son's elementary school you jump on it. The curriculum is solid, it's located on campus, and costs under $600 per month. Acceptance into EDCC also includes full-time summer care. It's a no-brainer.
When my wife received the phone call that my son was accepted into the program, we were elated. We also asked for a couple of days to think about it. We took 4 days. Then, we rejected it.
The chances of getting back in are slim to none. The waitlist extends past his next six years of primary schooling. Our daughter also no longer receives priority entry next year.
As we wrap up summer, it has become clear to me that we made the right decision. We're probably sacrificing profits and promotions. However, we are gaining something that doesn't come back once it's gone — time with our children.
Holy Toledo
Time with the kids is great but they still need to be stimulated mentally and physically. We also still need to work so we can't just have some fighting with each other, drawing on our walls with permanent markers, and having them interrupt me every 10 minutes with "I'm bored" while I'm trying to research the next great stock.
Therefore, we did something that was a big part of our childhood. We shipped the kids off to their grandparents for a month. I also tagged along. Wifey went to Germany for business.
So now I had trusted childcare, a slow work schedule, no wife around, and oh, by the way, I was reunited with my younger brother. This only meant one thing – ROAD TRIP!!!
Ohio, here we come.
My brother, his close friend, and I set off on our 5-hour journey from Toronto to Cleveland. The itinerary – roller coasters at Cedar Point, the Pro Football Hall of Fame in Canton, party in downtown Cleveland, and catching a Cleveland Indians game before heading back to the great white north.
With road trips, the drive is always the fun part. This was no different. Every top 5 list, from quarterbacks to professional wrestlers was set in stone. Rap music with lots of swear words was played really loud. Every NBA finals game over the past four years was replayed to the best of our memories.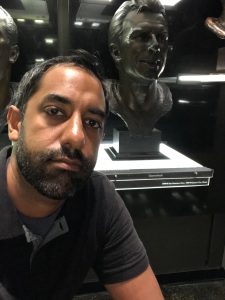 The actual destinations weren't so bad either. Thunderstorms were forecasted as we arrived at Cedar Point but they never came. The park was empty and the lines were short. If you're a fan of amusement parks I highly recommend Cedar Point. Every ride seemed to have set some type of world record and the worst roller coaster there was better than the best coaster I've been on anywhere else.
Downtown Cleveland still smelled like champagne from the Warriors sweep of the Cavs. The Hall of Fame was underwhelming but it did cross off a bucket list item. We also met an awesome local couple that invited us into their home to partake in some activities that are legal in California (and soon in Canada), but not in Ohio.
It also wouldn't have been a trip with my brother if there wasn't a skirmish. Unfortunately, I have the scar to prove it. All is good though. I hurt his feelings, and apparently, we woke up cuddling.
Bonding with grandparents
Back to the kids.
Time with the grandparents is important to us. My wife's family lives close to us but my parents and brother are about 2,600 miles away. If we decided to enter a summer program at my son's elementary school, my parents would not have the quality time they had with them this summer.
The kids had a blast too. They got to see the Niagara Falls, visited Canada's Wonderland, drove through a Lion Safari, got spoiled by their Aunts, and participated in multiple backyard BBQs. They also ate lots of ice cream and watched a ton of tv — stuff they wouldn't get to do very often with their parents. This freedom is what I believe makes the grandparent/grandchild relationship so special.
It's also finite.
There will come a time where it's not fun to go to Grandma and Grandpas anymore. Summers will be more fun with friends. There will also be a time when my parents will no longer have the physical ability to play with their grandchildren. These times are special and we want both sides to cherish it. The best part – it gives us a break too.
Summer camps
A month off felt great but if I spent all summer like I was in full-blown mid-life crisis mode my wife will probably make me go back to the corporate world. I needed to get back to work but there were still two months remaining until the first day of school.
Hello, summer camps.
Man, do I wish I was a kid again. My somewhat introverted son did not share my excitement about the variety of options available to him. He loves Legos and sports but going to Lego or Basketball camp meant being around new kids which isn't fun for him. You can imagine his disdain for me when I decided to enroll him in Summer Drama Camp where he was going to perform in a Winnie the Pooh musical in front of an audience of 100 parents. And I didn't tell him about it until I dropped him off.
Every day for 3 weeks, he played games, memorized songs, and worked closely with the rest of the drama team to put together a licensed Disney program that they wouldn't let me photograph or film.
He nailed it!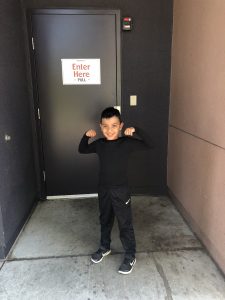 I always looked at parents with these huge smiles on their faces during their children's performance as a little cheesy. Now that I have joined the cheesiness club, I have to admit it was one of my proudest moments as a parent.
After wrapping up drama camp, my son really thrived. He participated in a nature camp called Wittle Ridge Runners where he went on short hikes and learned to make butter and cheese. He came home talking about how Adobe homes were made by the Ohlone tribe. A special visit from a real-life meteorologist (didn't know they still had those) taught him that cumulus clouds can be over 1 million pounds in weight. He also checked me when I called a green bean a vegetable.
What do you value?
When I start a financial planning engagement with a new client, we begin with a 'Goals and Values' meeting. In this meeting, I learn about what the clients' short, medium, and long-term goals are with their finances. Then I confirm if these goals align with their values. To get to the bottom of what their values are I'll ask a series of touchy-feely questions such as:
What did your parents teach you about money?
How do you spend your money today?
What is your biggest fear about money?
If you had $10 million and 10 years to live, what would you do differently? What would you keep the same?
With just about every client I've had so far, the answer to the 'Values' questions have boiled down to one thing – time. People want more time with their kids. They want to travel more with their spouses. Clients closer to retirement would like the ability to have the flexibility to travel to or live near their grandchildren so they can spend time with them.
Yet, when we get to how their money is spent, not always, but often it's, on luxury car leases, a dozen fitness studios, and expensive dinners.
My job as a Financial Planner/Advisor is to help close the gap between where the client is today and where they want to be. If there's one challenge all of us have in this industry, it's changing clients' money habits.
It's much easier to adjust spending when you think about what you value. For example, when making a big-ticket decision such as a luxury car, ask yourself this question: will this car help me gain more time to spend with the family? On the other end of the spectrum – maybe you're looking to buy a vacation home. This might be a great way to earn some investment income and also help you live the life you truly want. Of course, many more questions have to be answered before buying that condo in Maui but you get the point.
Real financial planning
After reading this article by Ben Carlson, I was kicked in the head with the realization that we only have 12 more summers until our kids start going off to college. Money isn't everything and I have come to the point that accumulating more isn't my priority.
I've always been a saver. However, most of my saving life didn't really have a purpose – I just liked seeing money grow. This summer was a moment of clarity for me. I know exactly why I was saving, and I'm glad I blindly did it over the past 20 years. I'm also glad I married someone who shares the same values as me. We do well but neither one of us is big-time earners. Yet we gained a ton of flexibility in our lives before we even hit 40 because we knew what we didn't value. We now know what we do value and are fortunate enough reap the rewards.
The past 3 months were also a nice reminder of what I'm striving to do for my current and future clients. Now, more than ever, I want them to be able to have more time to spend with their spouses, children, grandchildren, or themselves.
Whether it's today, in a few years, or a couple of decades from now, my job is to calculate how and when you can get to your happy place. My mission is to help you get there.
Besides, summers are what life is all about.